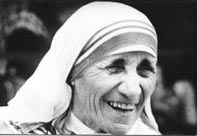 A TRIBUTE TO MOTHER TERESA OF CALCUTTA
(1997 - Eternity)
---
"Precious in the eyes of the Lord is the death of his faithful ones" -Psalm 116:15
You saw Christ in the poorest of the poor, and the world saw Christ in you.
You were a shining beacon of Divine Light in a century of great darkness and so few saints
Chesterton once said "Christianity hasn't been tried and found wanting, it has been found difficult and not tried". But you are one of the few who truly tried it and revealed its power to the world.
The press calls your falling asleep "a tragedy" and "a great loss". They say you'll "live on in our hearts". Yet you are still very much alive in the heart of Mother Church.
You have temporarily left your body, but not the Church. You are still united with us in the Body of Christ; and in some mysterious way you are now closer to us than you ever could have been before.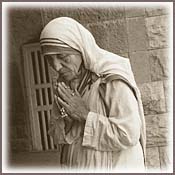 When I heard about your passing I felt uneasy about praying for your soul - it seemed that you should be praying for me!
(Perhaps all the prayers we offer for you will be applied to the poorest of the poor in purgatory).
I know the Vatican will ultimately canonize you, after following all the necessary procedures. In the meantime I will treat every picture of you as an ikon.
Though the Church has not lost you, I suppose the world has. It has lost a tireless servant of the poor and a fearless prophetess for life.
Holy Teresa, pray that the poorest of the poor will never be without aid...
...pray that world leaders will finally take to heart your call to protect all human life; a call they seem so unwilling to heed...
...pray that a hundred great saints may rise up in your place, to turn the tide of evil in the world and usher in the long-awaited Springtime of the Church...
...and please pray for me, an unworthy servant who will probably never accomplish in her lifetime one-tenth of what you did in yours.
REQUIESCAT IN PACE
ORA PRO NOBIS
---


To Visitors from the WebRings:
Welcome! This is my tribute page to Mother Teresa of Calcutta. If you have time, I invite you to check out the rest of this site, before moving on. Thank you and God Bless you.
-"Mystic Rose"




"It is a great poverty to decide that a child must die so that you might live as you wish"
-Mother Teresa


Tell A Friend About This Site!
---