WELCOME TO THE VIRTUAL SHRINE OF JESUS CHRIST, OUR GOD
---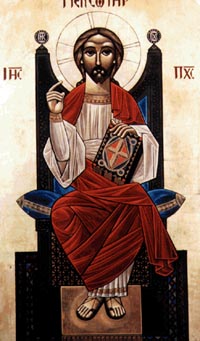 ---
I Am the Way, the Truth and the Life
---

"Come to Me, all you that labor and are burdened, and I will refresh you.
"Take My yoke upon you, and learn of Me, for I am meek and humble of Heart, and you shall find rest for your souls.
"For My yoke is sweet and My burden light."

--Matthew 11:28-30.
Pray as you feel moved

If you don't know about Jesus Christ, read what His followers have to say about Him:
---
Icon of Christ the Savior, by Isaac Fanous © all rights reserved for Copt-Net.

| Back: Images of Jesus | Next: Apparitions of Jesus | Shrine of Mystical Rose | Site Index | Home Page |