LINKS TO IMAGES OF JESUS ON THE WEB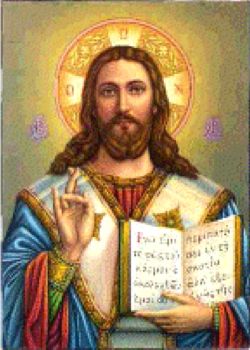 Looking for the perfect image of Our Lord for your Christian web site? Or an inspirational screensaver? Or wallpaper which doubles as an aid for prayer? Here's a page of links to pictures of Jesus on the web.
Some of these links offer free images, others are paid sites. Always check for copyright notices before downloading anything to make sure you're allowed to do so (and ask permission if it is not explicitly given).
Catholic Pictures. Links to Catholic artwork on other pages; many images are of Jesus.
EWTN Gallery. Features galleries of Christian art, with many images from the life of Christ.
Christian Graphics Gallery: Jesus. A nice collection of Jesus pictures; some Catholic, some Protestant/Evangelical.
Icons of Our Saviour. Lovely Byzantine images of Christ; please ask permission before downloading them.
Catholic Tradition Has many pages with images of Christ (follow the links to pages on the Sacred Heart, Holy Name, etc.). Pages take a while to download because of all the images, but some of the artwork is outstanding. (With links to other pages which the Mystical Rose Catholic Page does not endorse by this link)
Passionist Research Center. Lots of images of Jesus, including a life of Jesus in pictures. They are copyrighted, however.
Free Paintings and Pictures of our Lord Jesus Christ to View. These images are also copyrighted, so they are only for personal use.
Jesus Christ: Images, Art and Photgraphs. An incredible collection; about 440 images, from different cultures and time periods! (With links to other sites which the Mystical Rose Catholic Page does not endorse by this link)
Know of a suitable site not listed here? Email me your suggestions!
(Please do not send any unsolicited commercial email (spam) to this address! I will only respond to email related to the page. Thank you)


Tell A Friend About This Site!

| Back: More Prayers to Jesus | Next: Virtual Shrine | Links to Marian Art | Site Index | Home Page |